PRESS RELEASE
21 May 2010
SO12/09/10
PUDSEY BEAR HOSTS BANK HOLIDAY FUN DAY AT STORMONT
Bank Holiday Monday (31 May) will see the Stormont Estate play host to Pudsey Bear at a family fun day for Children in Need.
Now in its third year, this annual event promises to be a fantastic day of fun, games and entertainment for the whole family. Parliament Buildings, Stormont will be the venue for a performance from Dundonald Community Concert Band, story-telling, family photographs with Pudsey and tours of the iconic building.
Commenting on the event, Speaker of the Assembly William Hay, MLA said: "We want as many people as possible to attend the event and to use the opportunity to come into Parliament Buildings, see this magnificent building and engage with the Assembly. This event is a wonderful opportunity for families to enjoy these wonderful surroundings.
To download the event programme and for more information, visit www.nidirect.gov.uk/familyfunday.
ENDS
Notes to Editors:
The event is open to everyone on Bank Holiday Monday, 31 May, between 10.00am – 6.00pm. There will be a small charge for car parking within Stormont Estate, with all proceeds donated to Children in Need.
For media inquiries please contact:
Caroline Moore
Deputy Communications Officer
Northern Ireland Assembly
Phone: 02890 521806
Mobile: 07900053926
Email: caroline.moore@niassembly.gov.uk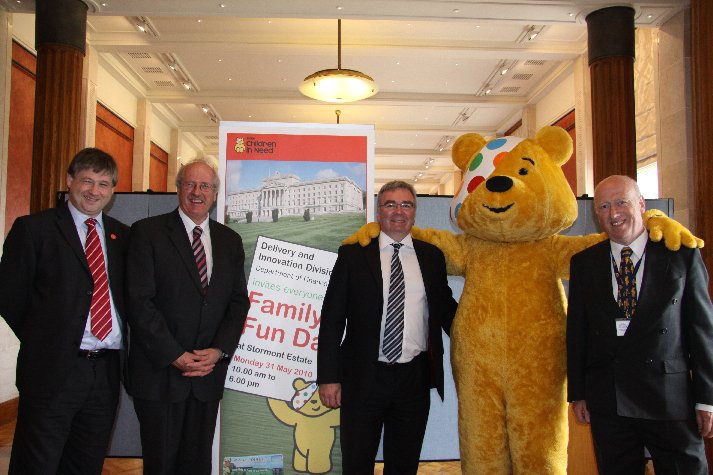 Pictured with Pudsey Bear at the launch of the Bank Holiday Family Fun Day at Parliament Buildings today are (l-r) Basil McCrea MLA, Jim Shannon MP, Tom Kennedy (Director of DFP's Delivery and Innovation Division) and Ronnie McAleese (Event Organiser).