Assembly Hosts Tweetup
Updated (16/03/11)
Thanks to everyone who attended last night and to all that contributed through the hashtag #niatweetup. We have had some fantastic feedback and many requests to do another!
We will be updating our flickr account and UTV have also created a gallery where anyone can post their pictures.
@AlanInBelfast has kindly blogged about the event on his website http://alaninbelfast.blogspot.com. If anyone else has blogged about the tweetup, please do get in touch.
Even though the tweetup is over, keep the questions coming on twitter.
Costs
Total cost for the event was £473.20 which included tea, coffee, biscuits, sandwiches and the hire of two plasma screens.
Updated (15/03/11) - Expert Profiles
We have over 70 registered attendees for the tweetup tonight.
The event will take place in Parliament Buildings, Ballymiscaw, Stormont, Belfast, BT4 3XX. Directions are below.
We would advise those attending to enter the estate through the gates at Massey Avenue. On arrival, tell security that you are attending an event in the Assembly and they will direct you to the public car park (which is also signposted). Proceed through the security search facility and enter Parliament Buildings through the main entrance at the front of the building. Security will direct you to a meeting point in the Great Hall.
If you have any queries please contact us: Tel: 02890521137 Email: info@niassembly.gov.uk or Twitter: @niassembly
The running order for the tweetup will be as follows:
5.45 Arrive - wait in the Great Hall
6.00 Tour of Parliament Buildings
7.00 Introduction and Welcome
7.05 Ask The Experts
7.30 Speed Dating
8.00 Close
Directions:
You can look us up on google maps or view the images below.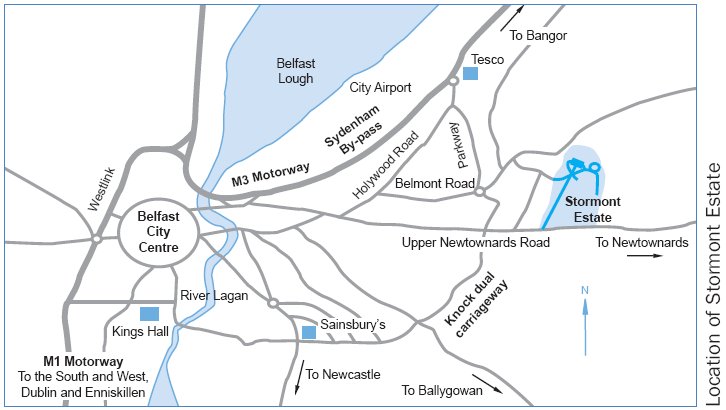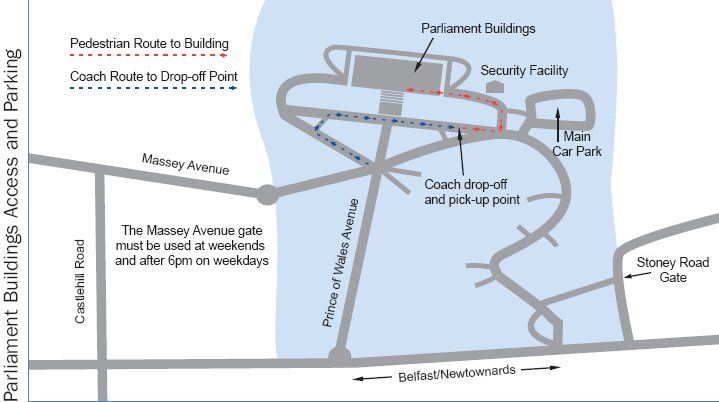 Updated (10/03/11)
Nominations for "experts" has now closed. Thanks for everyone who's volunteered to help out. Registration for the event is not compulsory but we'd appreciate it if you could complete the form below or email us info@niassembly.gov.uk!
Register
(If the registration form below fails to load, please visit this google doc or email info@niassembly.gov.uk to register your interest)
Updated (21/02/11):
The tweetup @nissembly will take place on Tuesday 15 March 2011 at 6pm. Thanks to all for voting and for sending us your suggestions for what to do on the night.
Please register to let us know you're coming
Here's the proposed timetable:
5.45 Arrive
6.00 Tour of Parliament Buildings
7.00 Introduction and Welcome
7.05 Ask The Experts
7.30 Speed Dating
8.00 Close
We still need your input!
Ask The Experts will be a Q&A style session – a chance for you to ask "experts" your questions on how they interact with the public through social media.
What questions should we ask the them? Remember, the theme is engagement so we're looking for stuff like "How do you interact with people online?"
Speed Dating
No, not actually dating, but the chance to network, share ideas and question your peers. A number of our twitter followers have already expressed an interest in presenting at the event, so if you would like to participate let us know. We can't guarantee that we'll be able to facilitate everyone, but we'll do our best.
Send your suggestions, ideas and any other comments to info@niassembly.gov.uk

Look forward to seeing you.
Updated (9/02/11): The Poll has now closed. The tweetup will take place on Tuesday the 15th of March at 6pm. More details to follow.
Updated (8/02/11): The Poll will close on Wednesday 9th February 2011 at 4pm.
Do you follow @niassembly on twitter? Would you be interested in coming up to visit the Assembly?
The Northern Ireland Assembly is hosting its first tweetup at Parliament Buildings and we want you to design the event! We'll be organising tours, talks, photo opportunities with input from all our twitter followers.
The first thing we need to know is when you want to come, so we're asking you to complete the form below with your preferences. Then just tell us what you want to do, via twitter (@niassembly), facebook, email info@niassembly.gov.uk or by phone 028 9052 1137. If you can't make it to the tweetup, but still want to come up to Parliament Buildings, it's open to the public Monday to Friday with public tours at 10am and 3pm, while the wider Stormont Estate is open seven days a week.