9 February 2011
APN 31– 10/11
ALL PARTY NOTICES
NORTH-SOUTH MINISTERIAL COUNCIL MEETING
The Speaker received notification from the First Minister and deputy First Minister, in accordance with section 52A (1) of the Northern Ireland Act 1998 (as amended), that a meeting of the North-South Ministerial Council in Transport Sectoral format will be held in Armagh on 9 February 2011.
The following Executive Ministers will be in attendance:
Minister Conor Murphy MLA; and
Minister Edwin Poots MLA.
The agenda for the meeting is attached.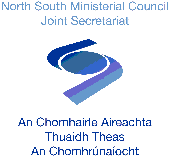 NORTH SOUTH MINISTERIAL COUNCIL
TRANSPORT SECTORAL FORMAT
NSMC Joint Secretariat Offices,
Armagh
9 February 2011
AGENDA
Opening Remarks by Ministers
Developments on Dublin/Belfast Rail Link [Paper NSMC TRAN 1 (11) 1]
Major Roads Projects [Paper NSMC TRAN 1 (11) 2]
Road Safety [Paper NSMC TRAN 1 (11) 3]
Cross-Border Community Based [Paper NSMC TRAN 1 (11) 4] Rural Transport
Freight Forum [Paper NSMC TRAN 1 (11) 5]
Sustainable Travel and Transport [Paper NSMC TRAN 1 (11) 6]
Ulster Scots Agency- Appointment of [ Paper NSMC TRAN 1 (11) 7A] Interim CEO
Foras na Gaeilge Review of Core-Funded [ Paper NSMC TRAN 1 (11) 8A] Bodies
Property Disposals by Waterways Ireland [Paper NSMC TRAN 1 (11) 9A]
Date of Next Meeting [Paper NSMC TRAN 1 (11) 10]
Draft Joint Communiqué [Paper NSMC TRAN 1 (11) JC]