20 January 2011
APN 28– 10/11
ALL PARTY NOTICES
NORTH-SOUTH MINISTERIAL COUNCIL MEETING
The Speaker received notification from the First Minister and deputy First Minister, in accordance with section 52A (1) of the Northern Ireland Act 1998 (as amended), that a meeting of the North-South Ministerial Council in Plenary format will be held in the NSMC Offices in Armagh on 21 January 2011.
The First Minister and deputy First Minister will be attending the meeting, together with the following Ministers:
Minister Attwood MLA;
Minister Ford MLA;
Minister Foster MLA;
Minister Gildernew MLA;
Minister Kennedy MLA;
Minister Murphy MLA;
Minister McCausland MLA;
Minister Poots MLA;
Minister Ruane MLA;
Minister Wilson MLA;
Junior Minister Kelly MLA; and
Junior Minister Newton MLA.
The agenda for the meeting is attached.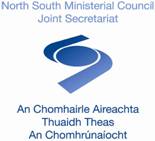 NORTH SOUTH MINISTERIAL COUNCIL
ELEVENTH PLENARY MEETING
NSMC JOINT SECRETARIAT OFFICES, ARMAGH
21 JANUARY 2011
AGENDA
Opening comments
Joint Secretaries' Progress Report and matters arising [Paper NSMC P1 (11) 1]
Cross-Border Mobility - New/Emerging Issues [Paper NSMC P1 (11) 2]
Progress on A5 and A8 roads projects [Paper NSMC P1 (11) 3]
St Andrews Agreement Review [Paper NSMC P1 (11) 4]
North South Consultative Forum [Paper NSMC P1 (11) 5]
North South Parliamentary Forum [Paper NSMC P1 (11) 6]
Future NSMC Meetings [Paper NSMC P1 (11) 7]
Draft Joint Communiqué