PRESS RELEASE
22 January 2010
AGR 09/09/10
AGRICULTURE COMMITTEE GETS TO THE ROOT OF FORESTRY BILL
An evidence-gathering session on a proposed Forestry Bill in Castlewellan Forest Park provided an ideal opportunity to look at the importance of commercial and recreational forests.
The meeting, on Thursday 21 January, was held by the Northern Ireland Assembly's Committee for Agriculture and Rural Development, which is looking at presentations on all aspects of forestry as part of its scrutiny of the proposed bill.
Speaking after the session, the Committee Chairman, Mr. Ian Paisley Jnr said: "The Committee feels that they need to listen to the views and opinions of all those with an interest in our forests so that they can take the key issues coming out of this Legislation to the Department and guide them into making this a better and more appropriate Bill."
"The evidence session at Castlewellan Forest Park gave the Committee the opportunity to look at the Forestry Bill in a commercial forest setting and a location that caters for a range of social, environmental and recreational activities."
During their visit, the Committee also planted a native oak tree in the forest to emphasise the importance of forest husbandry to the local economy.
ENDS
Notes to Editors
This meeting is the final evidence session on the Bill. The Committee will next commence a detailed scrutiny of the Bill clauses with the Forest Service on 26 th January 2010.
Media enquiries to:
Debra Savage
Communications Office
Tel. 028 90521405/90521137/Mobile: 07920 864221
Email: debra.savage@niassembly.gov.uk
Info.office@niassembly.gov.uk
Website: archive.niassembly.gov.uk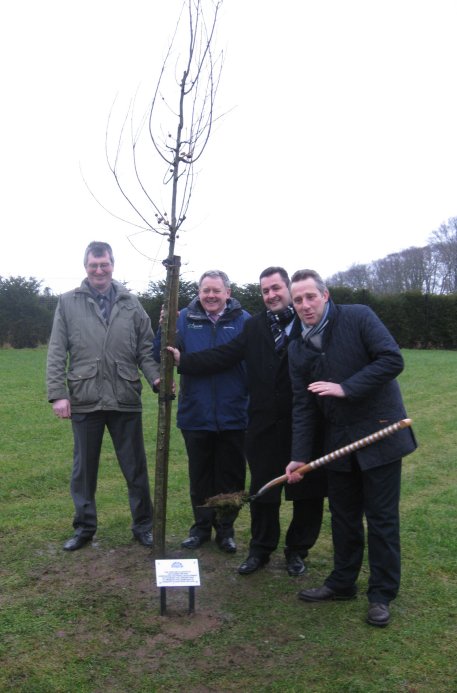 Members of the Agriculture and Rural Development Committee who planted an native oak tree during their visit to Castlewellan Forest Park, (l-r) Mr Tom Elliott (Committee Deputy Chairperson), Mr Thomas Burns, Mr Willie Clarke and Mr Ian Paisley Jnr (Committee Chairperson).